USA: Nurses have won their union, a strong collective agreement is next!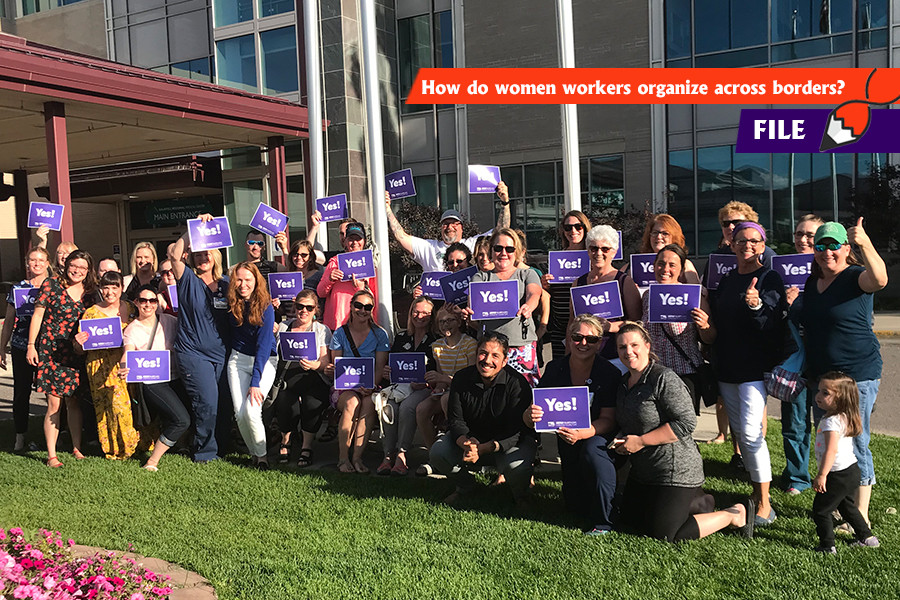 We asked Emma Fletcher, the organizer of the SEIU union, about the details of these nurses' successful campaign and the collective bargaining process in their hospital.
650 nurses, mostly women, at the Kalispell Regional Hospital in Seattle, won their unions with their struggle, and now it is time to sign the collective agreement for which they are voting for a strike in 2 weeks. We asked Emma Fletcher, the organizer of the SEIU union, about the details of these nurses' successful campaign and the collective bargaining process in their hospital.
Could you please introduce yourself?
My name is Emma Fletcher, I'm a union organizer with SEIU1199NW in Seattle, WA. We organize Healthcare workers.
The nurses have organised themselves successfully. Could you tell us more about it?
The last campaign I worked on was organizing 650 nurses in Kalispell, Montana at Kalispell Regional Health. The campaign which started at the end of 2018 took 7 months from start to finish and the workers won their union in July of 2019, and they've been at the bargaining table since then. The issues these nurses faced that led them to organize were short staffing, reorganization that led to staffing cuts, the administration not being transparent about their money dealings and getting fined by the government. The vast majority of the nurses at this hospital are women.
The workers began their organizing by forming a committee of leaders from every department at the hospital. This was crucial for their process because it formed a communication network that was far-reaching and had leadership. The nurses on this committee were all well-respected among their co-workers, which was also critical. It's very difficult to organize if you don't have respected workers leading the push.
The second step in their organizing process was they spoke to a super majority of their co-workers and assessed that they were supportive of forming a union and prepared them for what management was going to do when they went public about their unionizing efforts. They stayed quiet until they had that super majority and everyone was prepared, so that no one would be going out on a limb alone.
Finally, all the supportive nurses went public at the same time with their union support by a delegation of them marching to the CEOs office and reading a letter to him declaring the fact that they were forming a union, and by all supporters wearing a badge pulley that day at work, and every day until the election.
The town the hospital is in is small- it made news very quickly and they have had community members on their side the whole time. It's easy for a major employer like Kalispell Regional Health to get away with bad labour practices when they're the biggest employer in town, which is the case in Kalispell. That's why the news and excitement spread so quickly. And all throughout the election, management attempted to scare workers from voting "yes" by holding captive audience meetings, telling them they would lose money because they'd have to pay dues, telling them they wouldn't be able to make a difference anyway- even with a union. But despite all the threats, bribes and scare tactics, the nurses won their union by a landslide!

PANDAMIC HAS BEEN USED BY HEATHCARE BOSSES
The nurses won their union. Have they managed to sit on the bargaining table for their demands yet?
They're now working on their first contract campaign, in which the boss has attempted some of the same tactics to slow down their bargaining process and try to divide workers by spreading lies about what's happening at the bargaining table. Luckily, that isn't working on the nurses and they're sticking together.
This pandemic has been used in very nefarious ways by healthcare bosses- in times of crisis, it gives people with power the ability to use their power to make big changes with little oversight- they say they are making decisions with urgency as the crisis demands. Decisions like laying off critical staff, freezing wages and putting off bargaining and labor management meetings with their employees. This is crisis capitalism! Though we know that this is an even more critical time to be bargaining in healthcare!
The nurses are going into a strike vote in 2 weeks, in order to move management on the 2 issues that they haven't budged enough on at the bargaining table yet- pay and staffing. Withholding our labour is the biggest threat we can give to an employer, and it's the action that wins the strongest contracts and necessitates the most unity among union members. This action is going to win them a really strong first contract!
Were there any interesting experiences during your organising?
One fun action they took during Christmas time, was hundreds of nurses filled out paper ornaments that prompted them to write what they wanted for Christmas from the boss- many wrote things like Safe Staffing, liveable wages and new equipment to replace the broken equipment they're currently having to use. A delegation of nurse leaders put all the ornaments on a Christmas tree and delivered the tree to the CEO!
What would be your message for the May Day for our readers of Ekmek ve Gül magazine?
The United States is a difficult place to organize unions in- the roots of racism, classism and sexism are very deep, and the ruling class has a lot of power to shape a narrative that workers have it "good" here. In fact, we have some of the largest wealth gaps between poor and rich in the world- we have the world's most billionaires living here and getting richer every day, off the backs of the working class. May Day is an important reminder of the working-class roots of this country and that a better world is possible when we organize together.
"We can bring to birth a new world from the ashes of the old, for the union makes us strong" (Pete Seger)
Solidarity!
CLICK to access full file, 'How do women workers organize across borders?'
Haberin Türkçesi için TIKLAYIN

Photos: Emma Fletcher's personal archive

---
Bültenimize abone olun!
E-posta listesine kayıt oldunuz.