The workers' antidote to the 'fire-and-rehire' virus: organising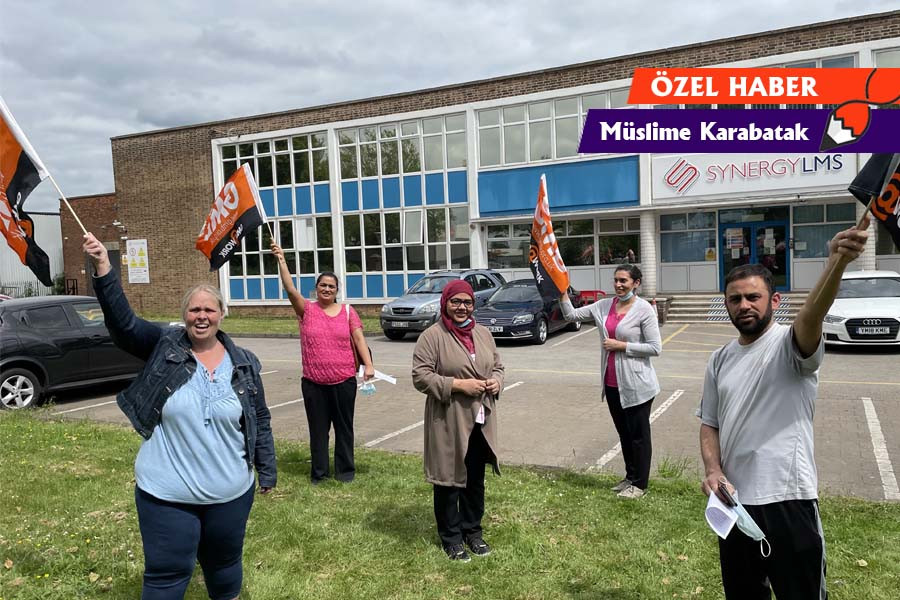 Ekmek ve Gül interviewed Tina Wright, one of the GMB union reps, about their victorious campaign.
Tina Wright is one of the workers cleaning hospital drapes and gowns to the highest hygiene requirements seen in the UK for 20 years. The public has perhaps begun to realise the value of such work following the impact of the pandemic more fully but may be less aware of the pressures being placed on such essential workers by employers. For example, The LMS Synergy company in Derby, where Tina works for minimum wage, has chosen the second year of the global pandemic to launch an attack on staff wages and working conditions. "Sign the new terms and conditions otherwise you'll be fired," is the new threat. The name of this virus, which spreading through employment sectors in the from aviation to health, is known as "fire-and-rehire".

Attempts in Parliament by progressive MPs to ban this "industrial infection", which aims to destroy all the workers' vested rights at once, have been resisted by the Conservative government. However, class-conscious workers and trade unionists having been used to operating with heavily constrained trade union rights in the UK since the 1980s, and have been taking matters into their own hands. Tina and her colleagues, many of whom are women and largely from different minority communities, successfully organised in their workplace to defeat the fire and rehire proposals. Their organising success was subsequently highlighted in the maiden speech of new Unite GS Sharon Graham's at the TUC conference as an exemplary achievement for many other workers who are currently facing "fire-and-rehire" threat.

Ekmek ve Gül interviewed Tina, one of the GMB union reps about the LMS Synergy campaign. Further observations are provided by Mick Coppin, the local GMB organiser whose analysis was published by EPOC (Europe's Power and Organising Center of UNI Europe). EPOC provided Mick with strategic and tactical support during the organising campaign.

"THINGS NEEDED TO CHANGE"

A few issues had made workers unhappy even before they received the "fire-and-rehire" ultimatum. Tina explains: "It was clear things needed to change. We felt that management would treat people differently like one rule for one then not another, there was no consistency with rules. If we raised personal issues, these weren't being listened to and there was a lack of empathy." These everyday problems moved Tina to join a union, and eventually she became the rep; to quote an old Turkish saying 'every tree produces its woodworm from its own sap'.

Here's how Tina describes the "fire-and-rehire" process:
"One of the main threats we were facing was around terms and conditions, they wanted to adjust our rates of pay for bank holidays and overtime, even though we are only on minimum wage. They proposed to remove time and half pay on bank holidays and overtime and only give us a flat rate, but this time and half is the only benefit we currently receive. This also led to Synergy suggesting that if we did not agree to these terms and conditions, they would fire and re-hire. Even then, they were threating that there was no guarantee to be re-hired."

So how did Tina and her colleagues come together and take collective action to counter this attack? "During the period of negotiations, we really needed to stick together in order to form a strong union. The first thing we did was that we all decided to reject the new terms, but still had to sign the new contracts. We were able to do this with a signed 'working under protest' form so it was clear we disagreed. When Synergy initially didn't want to negotiate, 97% of union members agreed on the decision for a 1-day strike, which would continue with weekly strikes thereafter."

THE KEY FOR ORGANISING: WORKERS' DAILY ISSUES AND NATURAL WORKPLACE LEADERS
It is worth considering EPOC's analysis to better understand Tina's comments about "sticking together". Workers were given 90 days-notice to accept the new contract. In this time, through repeated one-to-one conversations undertaken during site visits to catch shift changes, the GMB organiser was able to identify that the elimination of overtime supplement and management bullying were hot issues of contention among the workers. EPOC's Analysis says:
"'Fire-and-rehire' is making the headlines in the UK as a huge threat to workers. However, it is not this broader context which drove the workers to collective action, but rather first-hand problems experienced on the shop floor. (…) Key to the success of the campaign was identifying the issues that united workers, rather than framing the campaign around the vocabulary of the union's political priorities. While 'fire-and-rehire' was a vehicle the employer was attempting to use to drive down conditions, it was the specifics of the conditions themselves that workers were drawn in by. This included bullying, which was not an issue specifically affected by the fire-and-rehire attempt, but which contributed to the simmering resentment which could also be addressed through collective action." That is, being able to "bring together" the workers around their urgent daily issues became a key step in accumulating a collective power to prepare them for the fight against a major threat such as "fire-and-rehire."

The EPOC article states that when a "a robust organising approach was introduced", the close-knit communities of workers became an organising force." After identifying the natural leaders, in this case from ethnic minority groups, and their daily internal networks, things become easier to "coordinate quickly and get ready for action." According to the organiser Mick Coppin, "once you find the right leaders in the workplace, it's all about developing them."

The analysis suggests that important factors in identifying these workplace leaders were that these leaders had to be influential in different communities, but also that they needed to be from different departments and shifts. Thus, the committee which was built around these leaders had to cover every department and shift on the production line. Furthermore, to increase in the number of union reps from 1 to 3, a network of "activists" was also established to ensure there was improved coordination. For example, they would come together after work to prepare their handwritten material in their own language.

Tina says that 80 more workers joined the union during this organising process, thus doubling the union membership in the workplace: "I believe this was because so many of the staff wanted change and felt supported being within the union. Their voices were being heard."

In unions it is commonplace to hear talk about the importance of "workers' taking the ownership of their collective struggle ", the EPOC analysis clearly reinforces this assertion. The analysis stresses the vitality of informing, guiding and engaging workers in their own struggle. This was a campaign where a paid trade unionist did not act as a "hero" to save the workers, on the contrary encouraged the workers to take active steps for concrete solutions to their concrete problems. Starting a journey in building a collective power, not only quantitatively, but also qualitatively. It is a process in which the workers change themselves as they change their conditions.

WORKPLACE STRUCTURES: THEIR "VOICE" ABOUT THEIR FUTURE

Eventually months of field organising bore fruit and in August the company's CEO had to abandon the 'fire-and-rehire" imposition and replace the bullying local management. I asked Tina about the impact of this decision. "Since the victory, communication is slowly improving between the managers and the employees. There is some evidence that they are trying to work with us rather than against us, but this seems to still be inconsistent." she says. The bond between the workers, whom the management had previously tried to divide, also seems to have tightened: Once a month, they organise a "Derby Day", when employees are treated to something of their choice through nomination and they have had pizza, cake, and samosa.

Tina adds that they also have monthly meetings called "the voice" where she is able to "attend and raise any concerns that all employees might have, this could be with health and safety or holidays, etc." In addition to that, just for union members, she runs a monthly 'union clinic.' "This gives the members a chance again to speak about anything they are concerned with." she says. Finally, she also has a notice board which is displayed in the canteen area for everyone to see. According to EPOC the LMS Synergy workers are already in the process of negotiating a new leave allowance policy. With workplace structures in place which enable them to have voice in their future, they now seem to be effective in influencing decision-making.

"STAY STRONG AND UNITED, AND YOU WILL GET THERE EVENTUALLY."
Of course, change has happened not only in the workplace, but also in the life of the union rep Tina: "I believe this experience has personally given me more confidence and a great sense of achievement with being able to support employees for better outcomes." Not surprisingly Tina encourages workers at other workplaces hit by "fire-and rehire" to fight back: "If you stick together, you will win because you will have strength in numbers."

Finally, when I ask her what her message for our readers would be if Ekmek ve Gül was the bridge to working-class sisterhood, Tina replies:
"Our strong message would be, do not give up and do not give in. If you stick together, you can make a change that will be much more beneficial in the long run. It can seem scary at times going against the employers, but that's what they want you to think. They want you to be fearful so that you give in, but do not! Stay strong and united, and you will get there eventually."

This is the story of Tina and her colleagues who have been changing their conditions as well as themselves, and their story is not over yet.

A PRODUCTION BOTTLENECK AND A UNION LEVERAGE
From the analysis of the EPOC, we learn that there are 2 important elements that workers use in this organising. The first one is the bottleneck, or choke point, in the production line, the second is the "union leverage" technique based on the company's growth strategy.
The organiser and workers identified the choke point in production. If a small group of haulers stop work, they would hinder the flow of laundry and stopping the cleaning process abruptly. "When the day came to down tools, their participation was key as it jammed the production chain for all workers who then naturally joined the action."
The union leverage point was the NHS, which is the company's most important customer. The analysis continues: "Here, the communications work came into play and had two aims: expose the bad management practices to the client highlighting risks associated with a breakdown of labour relations; build political pressure to impact future decisions on the NHS' outsourcing practices. The dispute's profile was amplified when national and local politicians came down to meet the workers on the picket line to show their support."
(1) UNI Europa. BEATING BACK FIRE-AND-REHIRE THROUGH ORGANISING. 25.08.21. https://www.uni-europa.org/news/beating-back-fire-and-rehire-through-organising/

Photo: GNB Union
---
Bültenimize abone olun!
E-posta listesine kayıt oldunuz.