Sharon Graham: workers' candidate for the leadership of UNITE the Union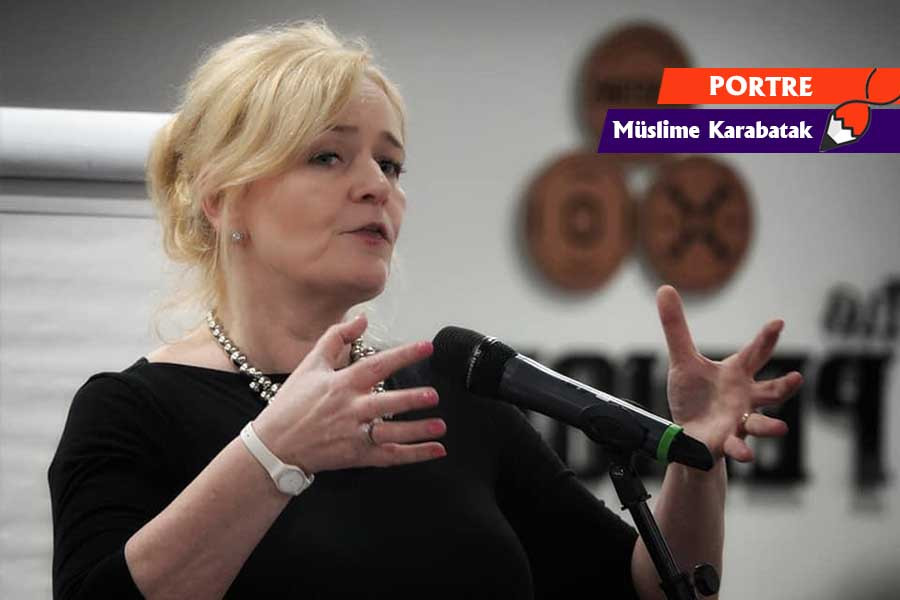 Sharon Graham has been behind Unite's Broad Industrial Strategy, namely practical plans to improve wages and conditions and increase job security for workers in all British workplaces across sectors.
She was 17 when she first went on strike and went on to be a union organiser for 20 years and the leader of Unite's organising department for over 15 years. Sharon Graham has now put herself as a candidate for the leadership of the Unite the Union in Britain. What the wider Unite membership may not know about Sharon is that she is one of the key movers behind many of the major struggles that Unite has been fighting and winning for the past 15 years.  

There have been many important industrial campaign strategies that Sharon Graham successfully managed, but one of the most effective has undoubtedly been the "Top Ten Strategy." That is to develop a "sectoral organising strategy" in Britain, where workplace-based organisation is legally imposed.
The strategy seeks to organise the top 10 companies which are strong enough to determine wages and working conditions in a given sector or industry and then bring together the rank-and-file shop stewards from each workplace. Together with these rank-and-file shop stewards and workplace leaders, the sectoral problems faced by the workers are identified and campaigns are specifically targeted at those problems.
Sharon has argued that "Issues like the projected impacts of rapid automation or the shape of the economy post-covid cannot be tackled 'shop by shop'. They have to be tackled at an industrial sector level. In each case an "organised, coordinated and strategical approach" is sought. From her experiences of organising and teaching organising, she has seen that traditional methods or workplace campaigning, involving individual and scattered workplace organising, are doomed to failure. For her "Modern global capitalism simply doesn't organise this way. Unions cannot afford to continue to attempt to organise along outdated lines".
SECTORAL VICTORIES IN THE MEAT INDUSTRY
Under Sharon Graham's leadership the first campaign of the Organising Department was in the meat industry. This is an industry where many of thousands of workers were precariously employed by agencies at low wages. "To organise one workplace or one employer - even the largest employer - would have been doomed to fail as all the supermarkets (who bought all the meat produced) would only need to switch to a different supplier for cheaper products." Organising individual companies would actually harm the workers more than it helped. After all, when that individual company loses its contracts with supermarkets, its workers who would suffer, and the union would lose its members. Thus, organising unorganised companies in a sector one by one would only benefit the competitors, not the workers.
Instead, the Organising Department implemented a disciplined sectoral organising strategy in 2004 (when the union was still called the T&G). At that time only 30 percent of workers in the meat industry benefited from collective bargaining, however when the campaign ended in 2007 more than 80 percent of workers now benefiting from collective bargaining agreements.
So, how was it done? First, the campaign identified the largest companies of the meat industry. Organized and unorganized workplaces were mapped, and all trade union leverage points were identified (supermarkets, being the customers of the companies, where the biggest leverage was). Then, by organizing workers in designated companies "simultaneously and in a coordinated way", workplace committees and sector committees were formed, and the rank-and-file leaders of committees in different companies were regularly brought together as sector committees. Campaigns were then developed around sectoral problems.
The outcome of this successful organizing method was that Unite could force big meat producers in the market to sign the "Minimum Standards Agreement" covering 26,000 workers. As a result, thousands of workers have been organized "all together" in meat production, many of whom are cheaply employed, many of them migrants, deprived of even their basic human rights and many of whom have had health issues due to bad working and living conditions. The agreement provides a decent wage, equal pay between agency workers and full-time workers, and allows agency workers to become permanent after the 3-month trial period, reducing number of agency workers (the numbers of which had reached 90 percent in some companies before the agreement) to about 5 percent in the entire sector.
BROAD INDUSTRIAL STRATEGY
Sharon Graham has been behind Unite's Broad Industrial Strategy, namely practical plans to improve wages and conditions and increase job security for workers in all British workplaces across sectors. She leads a department which has brought thousands of members to the union with successful organizing strategies and campaigns in the workplaces and continues to lead the class struggle from the front along the side of rank file workers. She uses ruthless leverage methods routed in a class perspective against anti-union bosses. She is also the person behind the strategies Unite has developed, again with rank-and-file members, against automation and precarious work.
With the rank-and-file stewards and her team she has developed, applied and won successful leverage methods against bosses' anti-union campaigns and Blacklisting (blacklisting organized construction workers)/
Other successful leverage campaigns include:
- Stopping Honda from de-recognition and reinstatement of suspended Senior Shop steward, dismissal of senior management, recruiting over 1000 new Unite members.
- Preventing BESNA from being abolished in the construction industry and preventing the reduction of wages and working conditions.
- Dramatically improved the financial settlement for sacked workers of MMP, with agreement on future employment opportunities and the dismissal of a senior manager
- Getting the Olympic Award secured for London Bus drivers and gaining more than 2000 new members in the process.
- Significantly improved financial settlement for sacked workers of LMH, the agreement on future employment opportunities and re-instatement of "check off" facilities.
SHARON GRAHAM'S CLASS GRUDGE
So, where does Sharon Graham's class grudge against anti-union bosses' come from? It comes from growing up in a working-class family, starting working as a waitress at a very young age and the loss of her great uncle in a mining accidents in the North East. Sharon is walking in the footsteps of the generations of progressive women that the British working-class movement had produced from the late 19th century onwards. She is standing on the shoulders of leaders such as Eleanor Marx and Clementina Black who had the vision to organise both skilled and unskilled workers in single union. Just as they pioneered organising both skilled and unskilled and male and female workers against brutal working conditions, today Sharon Graham is one of the great fighting back trade unionists. Rather than focus on political factionalism Sharon has built a reputation for developing strategies and tactics that can strengthen and build our union movement at a critical time in British history when the issues of mass unemployment, precarious working, low pay, failing health care and automation are rising up the agenda. She is 100% focused on building an effective union to protect workers from the worst that the global capitalism has to throw at them and that is why she would be the General Secretary that bosses would fear the most.
"TRADE UNION DEMOCRACY IN ACTION" 
The campaign of Sharon Graham is run by workplace representatives. This campaign, launched in January by workers who support Sharon, is called Workers Unite and their slogan is "Let's Get Back to the Workplace."
The manifesto published on the Workers Unit page is as follows:
"Workers Unite for a Union that:
*Will always prioritise the workplace- jobs, pay and conditions.
*Arms our shop stewards, reps and activists properly and vigorously defends them against all and any attacks.
*Fights cuts to jobs, pay and conditions.
*Always backs members against bad bosses.
*Has equalities at its heart.
*Is proactive with a clear strategy for the future.
*Has an effective and innovative approach that learns from its mistakes.
*Is inclusive and has a transparent internal democracy.
*Is progressive and will move beyond internal Labour Party politics.
Be part of it. We want your ideas and your experiences to shape our programme. Soon we will be announcing and supporting the first ever open, democratic consultation on a campaign manifesto ever organised by a Unite candidate. Trade union democracy in action."
 *Unite the Union Community Member
References:
- https://www.facebook.com/UniteSharonGraham/ Unite Sharon Graham
-http://www.iuf.org/cgi-bin/dbman/db.cgi?db=default&uid=default&ID=4706&view_records=1&ww=1&en=1 T&G/UNITE's organizing drive in UK meat processing delivers results. www.iuf.org
-https://en.labournet.tv/video/6063/sharon-graham-speaks-about-organising Sharon Graham speaks about organising. en.labournet.tv
-Unite the Union Leverage Strategy Guide Book.
- https://workersunite.net Workers Unite
---
Bültenimize abone olun!
E-posta listesine kayıt oldunuz.