We are here... Women's solidarity is just one click away...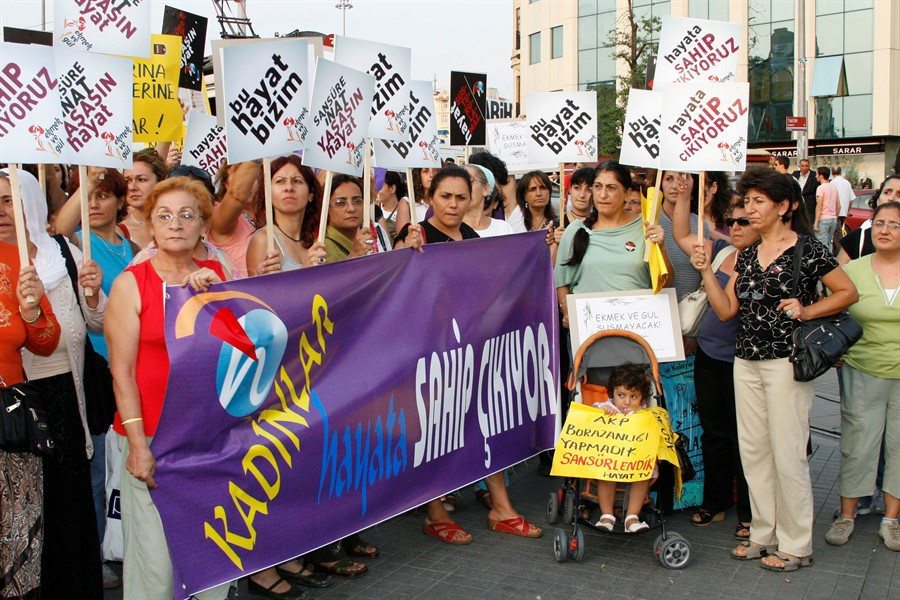 Far beyond just being news site, it is an adventure where we talk woman to woman, where we can find women's solidarity just one click away. It will expand with you!
Welcome to 'our place', beyond a news portal, where we will share our troubles, experience, and thoughts with each other,and where women are just one click away from each other. Our place will expand with you!
Ekmek ve Gül (Bread and Rose), which has started as a women's TV program in Hayat TV in 2008, is learning from the experience of the 100-year-old Bread and Rose-struggle. We have grown with the women who gathered under the title of Ekmek ve Gül in almost every city in Turkey. We also created a monthly magazine, which is published depending on the cultural accumulation of women employees, workers, nonworkers, students, and artists. Ekmek ve Gülhas spread through neighborhoods, workplaces, houses, women's associations, any other place that women live, and now it is continuing its mission due to synergy and solidarity of empowered women. Our website, beyond a news portal, will be a place where we will share our troubles, experience, and thoughts with each other, where women are just one click away from each other, and where we will glorify the life, learn from each other, and change the world with solidarity.
What kind of a TV program was Ekmek ve Gül?
What were the differences between Ekmek ve Gül and other women's programs in Turkey? When Hayat TV was just an idea, the real owners of this television channel, workers, women, academics, and young people were discussing the issues of 'what kind of a television broadcasting they should stream.' The answer was: 'Away of broadcasting which does not insult, judge, label or stereotype women, and which has a capacity to give voice to women in order to bring them together.' That is, an idea of television which is not limited to 'an alternative women's program, but a kind of tv broadcasting that extends from news bulletins to culture programs based on the same principle. Since the beginning,Ekmek ve Gülwas never considered as only a program.
Even before the program started, we used to arrange meetings with women in several places in order to understand 'what our goal is' and to get the opinions of 'those who would share our achievements'… In one of those meetings, one of our friends said: 'If we can turn women's worry for each into their care for each, we can achieve our goal!' We made this our business indeed!
With whom did we bring Ekmek ve Gül to now?
Housewives, women workers at the workplaces, offices, and councils, self-employed women, teachers, students, academics, the people who defend environment, women's right defenders, writers, theatre players, and artists… In the first place, when we were discussing Ekmek ve Gül in our meetings, we saw that nobody gave an answer just from her own perspective to the question of 'how.' People were so mind-opening, and gave a lot of suggestions without stereotyping women. Then, we said 'we need to continue in the same way, without stereotyping women and women's program broadcasting.' Eventually, it turned out as we planned. Ekmek ve Gül was different by far from the type of mainstream women's programs. It excelled in creating its own voice and words, and managed to be a flexible and productive program that could reach out all the women, in a way that they could practice their own preparation, presentation, and shooting. Every woman who saw Ekmek ve Gül as her own microphone contributed in a way, either by presenting, shooting, being a journalist,or being a guest speaker…
What did Ekmek ve Gül achieve?
The most important achievement of us is that Ekmek ve Gül became a tool, with which women in their neighborhoods, schools, and workplaces could change their life. We created an area where they do not feel lonely, where they can learn from one another, where they can communicate, and most importantly where they can gather. Now, there are thousands of women around the country, who can gather, find solutions to their problems, and take an action in an Ekmek ve Gül group. It could be any kind of problem, no matter the issue is to struggle against slum clearance, education problems, sexism in campuses, or following a violence case… We were just screening their discussions, actions, or protests. Ekmek ve Gül was not a place to tell women what to do, but a place to show how vital things they were doing.
Ekmek ve Gül has created difference sometimes by blocking a street, by interrupting a card game in a coffee shop, or by meeting with women at a home or in a school staffroom. Raising our voice not only about the issues 'specific to women', but also about any kind of problems of our country. Our insistence to increase the number of these gatherings provided us with precious experience, helped with overcoming several prejudices, led women to express their ideas, and enabled us to reach out other women.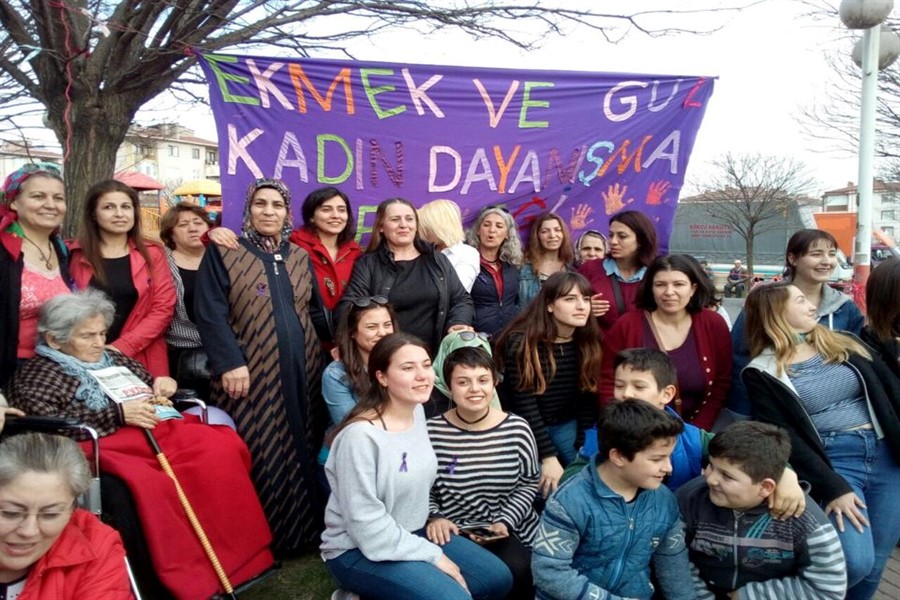 Hayatın Sesi TV, where Ekmek ve Gül was broadcasted, was shut down under color of the state of emergency situation. Now we continue our mission on a web portal. How did we find this energy?
We set our range by participating the Ekmek ve Gül groups around the country,which take actions to change whatever they want. Ekmek ve Gül has become a strong tree, and each of its branches are women, who take their mobile phones or their children's cameras to shoot, who borrow their neighbors' computers to write an article, or who learn to use technology after the age of 50…
Today, wherever women protest, wherever they gather to change something, and wherever there is an issue, Ekmek ve Gül is there. It is still there, even though its TV channel was shut down.
This is because Ekmek ve Gülis the women. It is an interview that a women worker makes by using her mobile phone. It is a voice message of an illiterate woman saying 'I don't know how to read and write, but I need to tell this, so I am recording my voice.' It is a woman who just called us to tell 'Listen, we have some suggestions, write them down!' while they were discussing what could be done for Ekmek ve Gül in their home meeting.
We managed to show the meaning of staying together and protecting one another. We achieved somethingthat showed the meaning of solidarity and proved how walking together can change in these dark days of isolation.
It is women who is behind this accomplishment.
It would be unreasonable, had our journey become something of the past after a decree law enacted in one night. We asked ourselves 'what are we doing now?' after our TV channel was shut down, and decided to do the same as we had done before. We asked this question to women, we followed the path they drew. We started to discuss just the day after our TV channel was shut down, we went to different cities around the country, and we are still trying to reach the women everywhere, who have contributed Ekmek ve Gül since 2008. With all our energy, we are working to create the web portal that women dream about.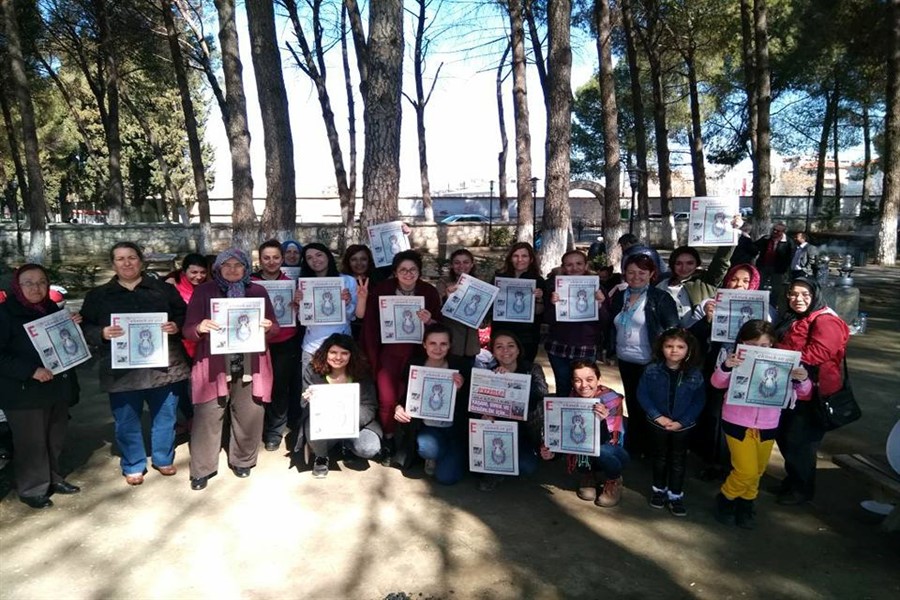 WHAT WILL BE INCLUDED IN THE WEB PORTAL?
We want to continue the trademarks of Ekmek ve Gül up to now.
There is not only sorrow in life, but in this country, keeping the joy is a great success. We are dreaming of a web portal in which women can find whatever they enjoy, and whatever is refreshing for them. Just to spite the 'womanless' screens, news, commends, women in Ekmek ve Gül will talk about everything from politics to education, culture, art, health and law…
Just like our previous program, it will be very colorful with different categories. Women's unwritten history will be here. The agenda not only of women in Turkey, but also of women around the world will be in this web portal. The enthusiasm given by women writers will also be here. Everyday women will talk about 'The word of the day.'
There are many things women lost; that's why we wanted to show our successes to brace up, and to support each another. Because of this, we needed the support and strength of all women. How nice that they do not refuse giving that support and strength to Ekmek ve Gül. Ekmek ve Gül will grow more and more with the power of women, we know that. 
Welcome…
İlgili haberler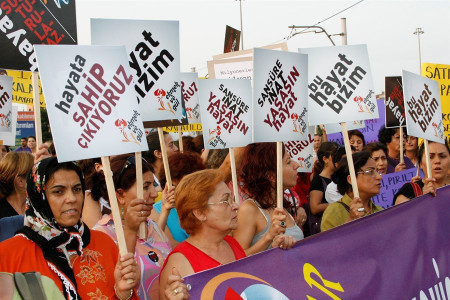 Bir haber sitesi olmaktan öte, kadın kadına dertlerimizi paylaşacağımız, sizinle güçlenecek bu mecra...
---
Bültenimize abone olun!
E-posta listesine kayıt oldunuz.