Romania: 'Contacting the union was the best decision we made'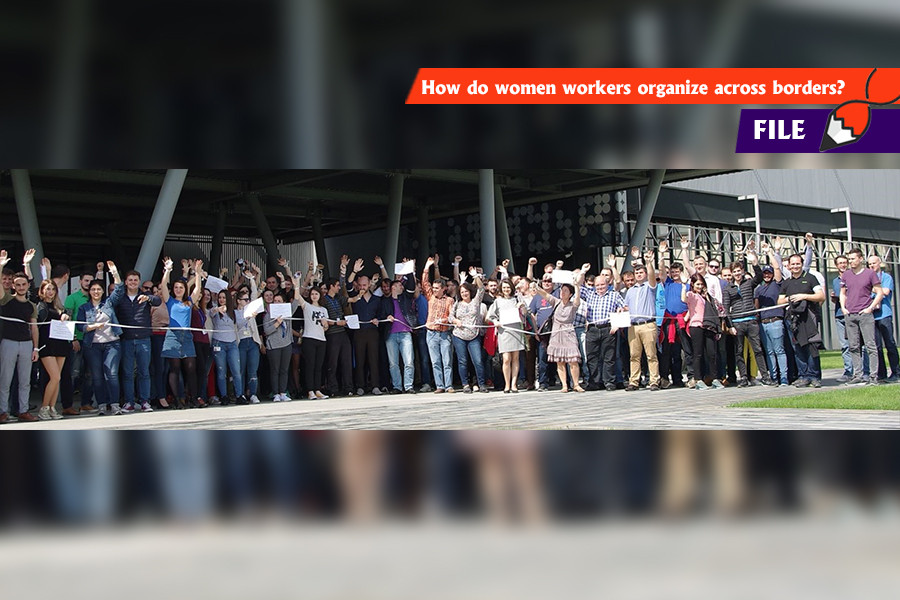 In Romania, during the pandemic the IT workers at the multinational Tech Mahindra company got organised and joined the union for IT workers (SITT) under the burden of the pandemic.
In Romania, during the pandemic, the IT workers at the multinational Tech Mahindra company got organised and joined the union for IT workers (SITT) under the burden of the pandemic. The main reason for their decision was the difficulty in reaching a constructive dialog with the company regarding their workplace issues. Even if they were working from home the employees at Tech Mahindra decided to join SITT (IT Workers Union) and negotiate a collective agreement in their workplace. The union density grew very quickly and reached a staggering 80 percent out of the total workforce. By the end of the negotiations between SITT and Tech Mahindra an agreement with mutual benefits was reached, which included a new bonus, additional benefits for overtime and on-call work, vouchers for women on March 8, vouchers for families with children on the children's day, and many more… You can read the details in our interview with Cristina Zaberca, one of the leaders of those workers.

Could you please let me know what were the issues which pushed you to unionise your workplace?

When Tech Mahindra opened a branch in Romania, their local presence was missing people with management experience on the local labour market. This brought many challenges. The impact was especially high on HR topics, where all of us had to intensively support the global HR structures taking care of Romania-specific concerns. This included several issues but mainly regarding our monthly salary calculations, annual leave situations and other specific topics. In many cases this meant doing these tasks ourselves. Also, many of the premiums paid, like the ones for extra work or on-call duty, were low comparing with other companies.

How did you decide to get unionised?

Some promises were made but were not kept, we were very open to ideas from the employer but even those did not happen. After discussing openly between each other, we, the employees took the decision, that we need to make ourselves heard as one voice, and in a legal way. Working for an Asian multinational company, it was difficult for us alone to explain the local law, since we are a telecommunication branch. So, we needed expert legal advice, someone to guide us on how to approach the employer and help us create a collective labour agreement. We, the employees, wanted to be herd as one voice. Contacting the union was the best decision we made.

How did you contact the union?

Some colleagues worked in other multinationals companies that collaborated with SITT union. We knew about SITT from other multinational companies, they had a flawless reputation. We contacted them online through their website.

At the beginning it was underground, after some months we opened up to the employer, we wanted to make them aware of the situation. The outcome after one and a half years of collaboration: 80% of employees are now union members.

Could you please let me know the details of your organising process?

Once the company employed more than 50 people, we held internal meetings with all employees to be sure that everyone is ok with us contacting a union, after that we contacted the local IT Union, to ask them if they will represent us.

The first action we took together with SITT was to establish leaders and activists, internal people that can represent all the others. When this team was complete, we, the activists, started to contact our colleagues on different platforms, Facebook, Messenger, WhatsApp, one on one or in small groups. This was a bit challenging to do online and establish a trust online, but due to Covid lockdown it was the only way to move further. Week by week, we managed to bring more and more members.

Our first target was to reach 50% union members out of all employees. Once we reached that target, things started to move faster, people started talking to each other, above this, we held several meetings, where there was a presence of over 50%. After some time, we reached our second target, 70% union members out of all employees, at this point the members started to be more implicated by asking questions and coming up with own ideas. It turned out into a collective communication. This was our initial target, establish trust and get everyone involved, encourage them to ask "How can I help?" and support them to become activists.

What has this organisation contributed for you?

We have now a collective bargaining agreement in place. There are things beyond our expectations in the bargaining made by our union: a significant holiday bonus, increased premiums for extra time and on-call time, extra days off, various extra benefits and even a severance package. The total budgetary impact exceeds 8%. Also, at the beginning of this year Tech Mahindra decided to bring somebody from the local HR community onboard to unblock the situation and reach better results in a shorter period of time.

What would be your May Day message to the readers of Ekmek ve Gül?

My message would be: Find a job that you love and you will never have to work one day in your life. As Galileo Galilei said: "Passion is the genesis of genius", adding passion to your work can lead you to perfection, resulting in a masterpiece. This is what my mother always said to me, but actually I am still searching for this road, hope one day I'll get there!
CLICK to access full file, 'How do women workers organize across borders?'
Haberin Türkçesi için TILAYIN
Photos: SITT
---
Bültenimize abone olun!
E-posta listesine kayıt oldunuz.