We rebuild our lives through bridges of sisterhood!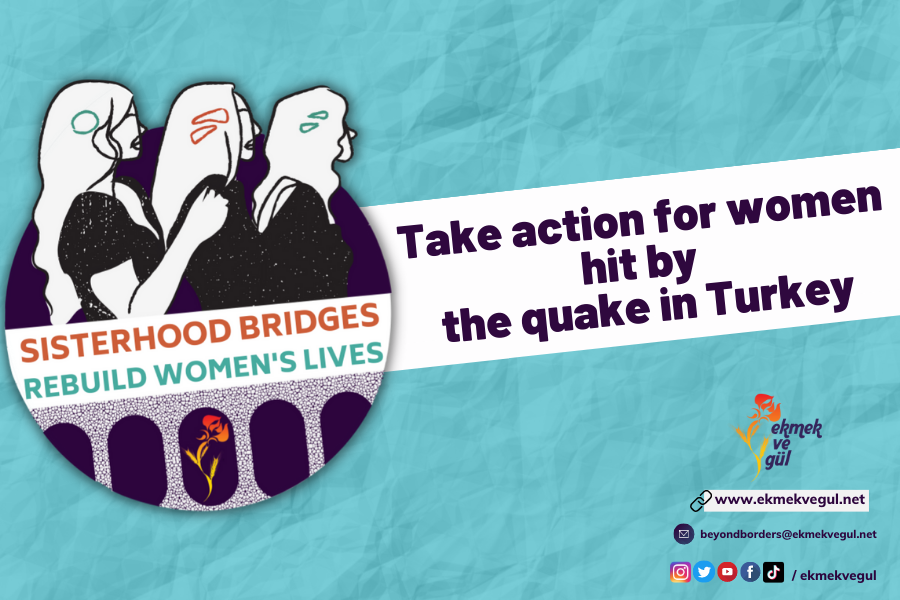 We do our best to spot the adequate needs in the field, organize the necessary support and make sure that it is delivered. We call on all our sisters in the world to support this solidarity!
Dear Sisters All Around the World,

As you probably know, the south eastern part of Turkey was hit by two subsequent earthquakes on 6th of February. These quakes have long been expected in this region, a number of scientists have been warning and calling on the government and municipalities for taking necessary measures for years. None has taken. The result became a social disaster.
11 cities have been affected immediately. According to the presidency, at least 75 thousand and 717 buildings have been either totally or nearly destroyed. As we left the second week behind today, the officially announced dead toll is more than 40 thousand while the number of the injured has long been over 100 thousand. Unfortunately, we have to say that it is almost impossible to know the exact numbers since the Turkish government has already started to remove the rubble with construction machines regardless of any possible existence of survivors.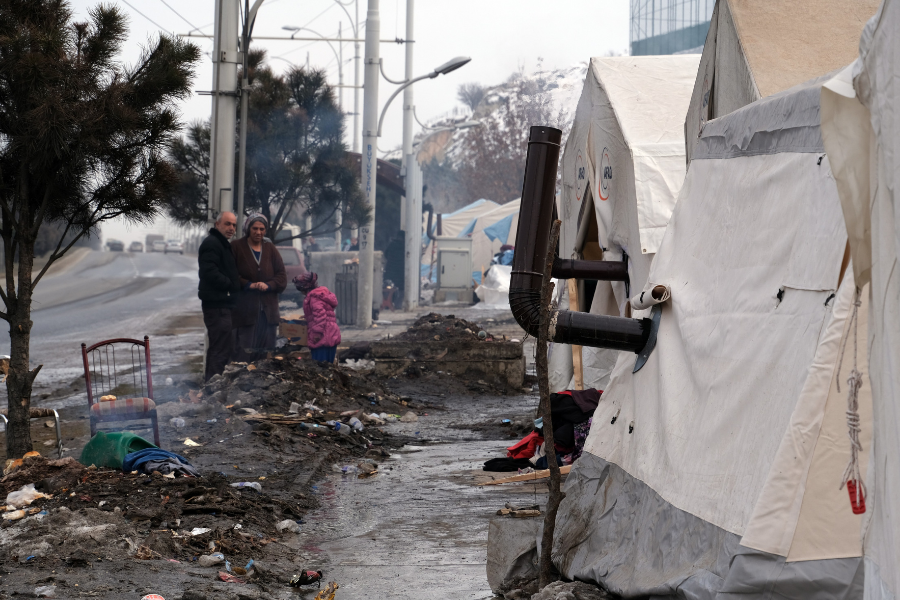 We would like to inform you about what people in Turkey have been going through from the first day:
⬛️ The government did not mobilize any of its forces during the first 48 hours. This includes military search and rescue teams and equipment, tents, food and water supplies, which are the closest supply resources to the disaster area. The only thing between these life saving sources and the victims was a decision to be made by the government in favor of its citizens. The president Erdogan did not choose to make such decision in the golden hours to save lives.
⬛️ AFAD (Disaster and Emergency Management Presidency) under the jurisdiction of the Ministry of Interior sent only a few thousands of trained rescue teams with an insufficient number of equipment and tools to the field in which an estimate of at least 13 million people lives. Those who survived the quake were abandoned to freezing cold, some lives were lost because of hypothermia.
⬛️ Miners who have a natural knowledge of digging and open life spaces under the earth were not transferred to the field immediately. Those who voluntarily got in action were kept on the roads for a while by the government. Such delay has costed many lives.
⬛️ People living in non-affected parts of the country immediately mobilized to send relief and aid materials to the region. However, the government confiscated some of them during the first days. It has been documented by mobile phone cameras that aid trucks were stopped, the names of the municipalities were removed and those of the governorships were put instead.
⬛️ It is very unfortunate to say that Turkish government's disaster management is profit-driven rather than human-centered. The president who declared a State of Emergency under the pretext of "maintaining security" did not use its power to suspend stock-exchange, allowing big companies to profiteer over the quake while people both in the affected regions and other areas were putting an enormous effort to deal with the disaster. Nor did he take any action to transfer construction machines of private companies even temporally to save lives. He chose only to delay the payments for 6 months, rather than erasing debts of the victims to the banks. People who have been screaming for rescue teams to save their loved ones from the rubble had to witness the teams saving ATMs of the banks.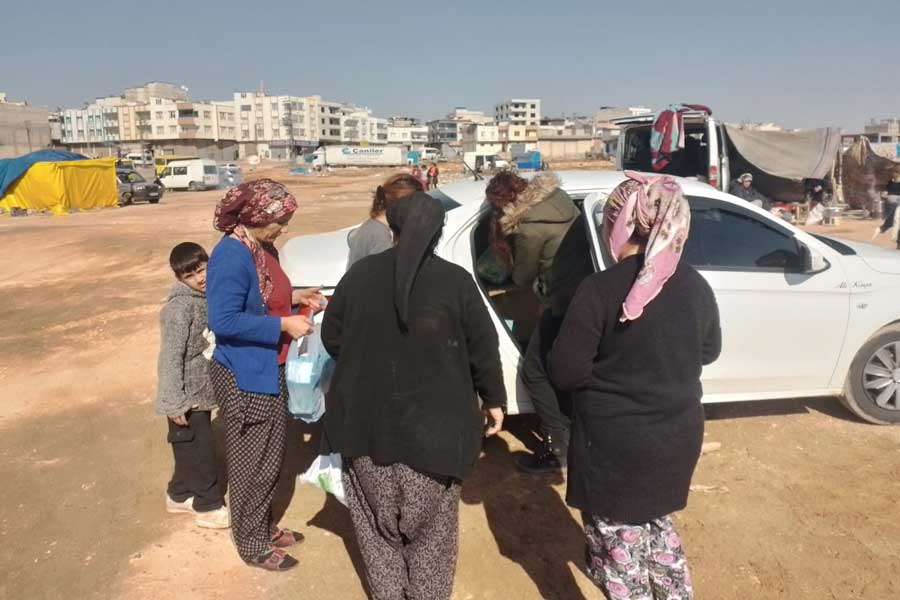 Dear sisters, it would not be surprising for you to hear that Turkish government's misogynous policies of the ordinary times did not change in such a disastrous situation. It became worse indeed. All the patriarchal roles intensified by the One-Man Rule in the country directly threatened women's lives.
⬛️ Many women have been caught by the second quake when they walked in the houses damaged by the first hit in order to collect food and kitchen utensils as well as clothing especially for their children. The absence of urgent aid by the government costed their lives.
⬛️ There were women who had to deliver their babies all by themselves under the rubble or nearby the damaged buildings. We lost many of them because of the delay of rescue teams. This problem keeps its urgency because according to UNFPA data, there are 214 thousand and 325 pregnant women living in the affected region, and 23 thousand and 814 of them is expected to deliver their babies within one month. The government has not taken any action yet.
⬛️ One of the most urgent needs of the surviving women in the affected areas were hygienic pads, tampons, underwear and special needs of female body. Those items could not, and still cannot, find a place in the government's lists. Women's organizations quickly mobilized to collect and send them to the region.
⬛️ The need for toilets is vital. Women are choosing not to eat and drink so that they would not have to go to the toilets. They push human body's limits by going to toilet once in a day, preferably in the darkness of the night, which in turn causes a vulnerability to sexual or otherwise attacks.
⬛️ We had to report instances where AFAD did not allow women to be part of post-quake work "because they are women" or refused giving tents to women because "they are not family".
⬛️ Unfortunately, it is a known fact that there happens an increase in the gender-based violence cases in the post-disaster environments. It has been almost two weeks and there is no place in the region for women to apply in case of such violations.
⬛️ The affected region is also a host to many migrant and refugee women, chiefly those from Syria. The government forces literally ignore their existence and needs leaving them to their own fate totally. It is documented that some officials forced a group of migrants, mostly women and children, into a bus, destination of which is still unknown to us. We heard about some cases that Syrian women did not make any sound because they assumed they were not to be saved from the rubble if they speak Arabic. They are exposed to racist and anti-migrant provocations. We work hard to support the solidarity between local and migrant women.
⬛️ Another crucial problem is about children. There are many unguarded children whose parents or legal guardians are dead or missing. It has been reported that some of them have been given to religious sects. Additionally, the Presidency of Religious Affairs has launched Quran courses in tents for children of pre-school ages (4-6) where there are no toilets, nurseries, or playgrounds for them. We try to organize an opposition to such traumatizing practice.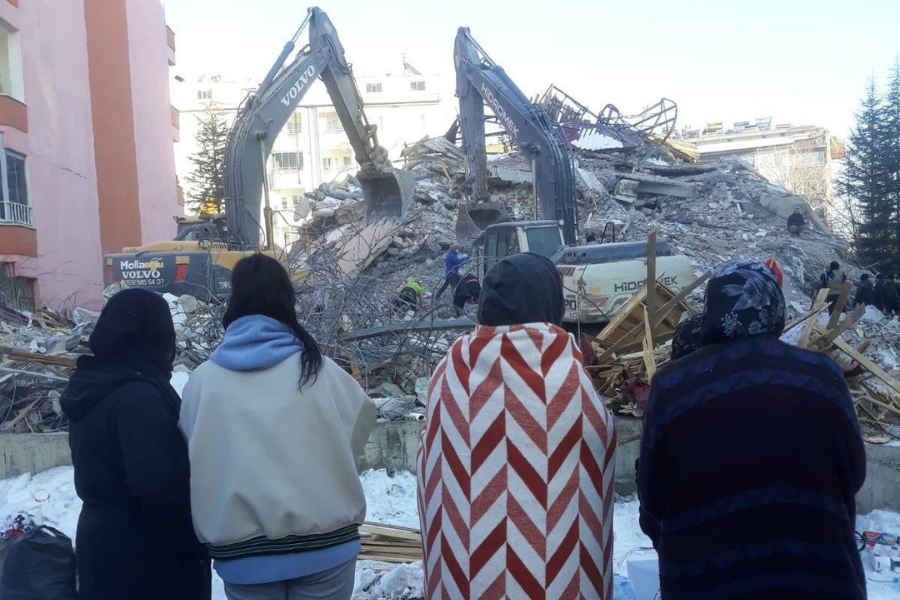 Dear Sisters, it is time to strengthen women's international solidarity!
Ekmek ve Gül has immediately formed a coordination among women's organizations and its local groups in the country. As the One-Man Rule still uses the state forces to keep our solidarity away from the region by attempting to confiscate the relief we sent, we have launched a campaign under the slogan "We rebuild the life through the bridges of sisterhood." On the one hand, we do our best to spot the adequate needs in the field, organize the necessary support and make sure that it is delivered to our sisters, while on the other hand we report all these violations, put a pressure on the governmental bodies to fulfill their duties and make sure that the government's sexist attitude is known everywhere we can reach.
We call on all our sisters in the world to support this solidarity!
Ekmek ve Gül
Please click for download the report 
Who are we?
Ekmek ve Gül, meaning "Bread and Rose", named after the historic struggle of women workers at the beginning of 20th century. The reason for the name choice is clear: We take this legacy as our own!
Our story began as a daily TV program in Hayat TV in 2008, a channel which was founded with enormous efforts of working-class people as well as many intellectuals, authors, artists, musicians etc. Its motto was "A television of millions, not of millionaires." Such millions included women. Soon after we started publishing a periodical distributed monthly as supplement to daily newspaper Evrensel which described itself as "daily working-class paper" for the last 27 years.
Hayat TV was closed by a decree of the President Erdogan who abused its powers after the attempted coup in 2016. So was our program. Then we responded such an anti-democratic assault by immediately building a web site that we have been running on a daily basis since 2017.
Today Ekmek ve Gül operates as a daily website, a weekly page in daily Evrensel on every Sunday, and a periodical published on first Saturdays of every month. But we are more than this. Based on a number of collective actions and cooperative activities with local Ekmek ve Gül groups and independent women's associations, we are a nationwide network of women who struggle for gender equality, democratization of the country and a humane world without exploitation. Ekmek ve Gül lives on such a strong solidarity among women.
Please contact us
Twitter account of Ekmek ve Gül
Instagram account of Ekmek ve Gül
Facebook account of Ekmek ve Gül
---
Bültenimize abone olun!
E-posta listesine kayıt oldunuz.